Victoria County in Motion!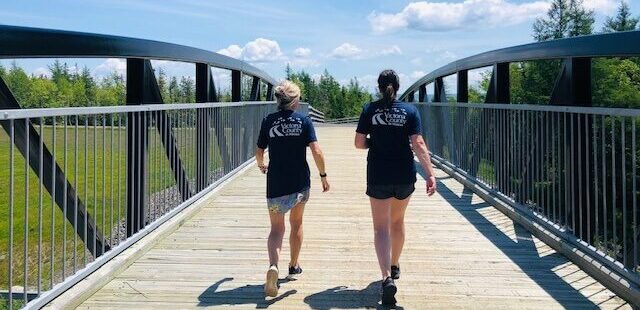 Get your steps in for a chance to win! This challenge will track your progress as you walk, or roll 240kms across Victoria County, from Capstick to Iona.
The first 30 people to register will receive a free t-shirt! Snap a photo in your t-shirt and submit to win a prize!
---
---
Registration begins July 1st! Program will run until September 30th, 2021.
---
Based on the recommended average of 10,000 steps per day (1250 steps per km) you could cross our county in 30 days.
But please, move at your speed, enjoy getting active & don't miss out on the many chances to win!
Ways to track your process:
-Pedometers (Don't have one? Get in touch with your local library or contact us for assistance.)
-Step counter on your mobile device
-Apple or Samsung watch
-Fitbit
-Google Maps
You can start & stop at any point throughout the challenge! Get your steps anytime, anywhere. Or, track your kilometers if you use a wheelchair or other mobility aids.
Step Goal: 300,000
Km Goal: 240km
Want to submit your forms in person? Please contact a library branch nearest you for more information! In order to borrow a pedometer you will need a library card.
---
Some of our prizes will include: season and day passes from Ski Cape Smokey & North Highlands Nordic, Highland Bow & Arrow adventures & more!
When Challenge is Completed:
Please take a minute to fill out a quick active living survey & be entered for a chance to win more great prizes!
---
Please reach out if you have any questions, or need assistance.