ReUse Centres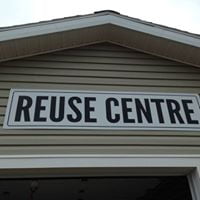 One person's trash is … you know the rest.
The ReUse centre is where to bring your still functioning and useable goods that you no longer want. The ReUse Centre is a valuable fundraising activity for many not-for-profit groups and a good way to divert items from landfill.
Baddeck ReUse Centre:
Located at the Waste Management Facility in Big Baddeck.

Dingwall ReUse Centre: (Not Yet Open)
Located at the Dingwall Waste Management Facility
Our hope is that as we divert materials from Nova Scotia landfills, we are also able to help local not-for-profits. Each not-for-profit will be provided with 4 consecutive Saturdays to operate the ReUse Centre. During this time, any proceeds collected belong to the group. Not-for-profit groups can apply to operate the facility and dates will be selected and communicated to the groups. Once dates have been selected for your group, you will be contacted and final arrangements will be outlined.
Not-For profit Responsibilities:
• Provide your own cash/float
• Provide your own helpers
• Set your own prices
• Please provide us with a primary contact person
For questions or additional information on the ReUse Centre, please email or call:
email: recycle@countyvictoria.ns.ca
Phone: 902-295-2026
---
ReUse Centre Application
Please note: Applications for Baddeck are for the 2022 season. Order is chosen via random draw.